The Last Piece of the Puzzle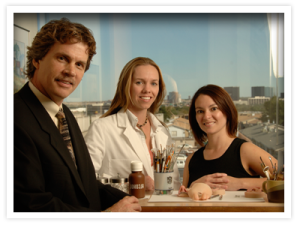 The last piece of the puzzle to putting Humpy Dumpty back together again was my fingers. Pam had found a medical artist on the internet named Greg Gion. Jeff took me there on a hot summer day, we were set to meet our friends at the pool of our summer club afterwards. Greg greeted us in his satellite office some 25 miles away. I was wisp thin still but beginning to look more fashionable than skeletal. I was wearing white jeans a black t-shirt and a giant black straw hat over my long wig. He seemed mildly surprised by the sight of me. I might have looked more glamorous than I felt.  Who knows,  I was inwardly curious what kind of people Greg meets in his profession of reconstructing fingers and ears. Greg is lovely, a true artist with big green sensitive eyes and longish brown hair.
As is Greg's style he deftly studied each finger with trancelike intensity. I was sitting there twitching in discomfort. My new prosthetic hurt to sit in, and the jeans were tight against the cast. My right foot was on fire and I had to kick off that shoe.  Minutes turned into hours as we bid Greg goodbye and drove off into the hot sun to meet my friends. Jeff had the top down on his small sports car, I normally love the feel of a convertible and love the feel of the wind in my hair and the sun on my face. I also was eager to see my best friends and lay down on a lawn chair. What should have been a 30 minute ride now turned into a bumper to bumper snail pace of a hot ride, the sun actually severing through my jeans and burning the rubber sleeve on my leg. I actually started to scream and swear and cry. This was normal given my circumstances, and long overdue but it unsettled poor Jeff who had not seen me in such a state and was always deeply affected by my moods.
1 hour and 10 minutes later we shakily walked into the pool area and over to my girlfriends. They took one look at me and proceeded to soothe me with their loving empathy and understanding.
Eventually, I got my fingers, the last piece of the puzzle, and they were truly a masterpiece, done with loving precision by the perfectionist, Greg.  Since then, I have referred Greg to a family that I mentored. Greg is a soft spoken, fair and honest person who is truly in his field to help people in very unfortunate circumstances . His price is less than 1/3 of the few others in that profession but his workmanship is a tour de force. We really respect and appreciate Greg. It's rare to find someone of his skill and integrity. It's a shame there are not more like him in the medical field.
Writen by Penny Fisher

Penny Fisher has not only survived an unbelievable trauma, but also she has thrived. She is working on her memoir, and is available as a motivational speaker and mentor. To contact her, email: [email protected].