Change is in the Air (and it's all good!)
This Sunday is going to be an amazing day for me – I'll be riding my 25-mile Challenge Tour for my charity Adaptive Adventures. This part of the year always means so much to me: It's the change of the season; the colors are so rich and beautiful; the sky is a brighter blue; the humidity starts to go; next month is my birthday month. It's a season that brings such good feelings. And, now with the Challenge Tour being held in the midst of this time of year, it's one more reason why I love Autumn.
Let me explain why this Challenge Tour means so much to me. It's my fourth year riding, and it's a time for my friends to ride with me or donate whatever they can to this important cause. It means so much that awareness is brought to this charity that I love. Adaptive Adventures is a charity that directly outfits people who have varying disabilities so they can participate in high-intensity sports. This i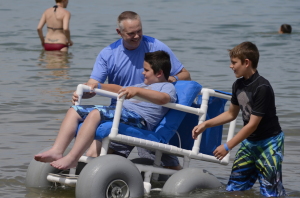 s just one of many of their great programs that they have — it is the biggest fundraising event for this charity whose programs include skiing, kayaking and dragon boat racing.
Six months ago, I met an inspirational young man named Aaron who had an ATV accident and is now living in a wheelchair. If we can give him a half hour of riding an adaptive hand cycle that comes through our donations, there is no greater gift. It's people like Aaron that spur me on to do these fundraising events so he can go out and enjoy his life.
This ride holds so much meaning to me because of people like Aaron and many other amazing people like him who I have met. The physical beauty of the ride combined with the fact that my friends and loved ones are waiting for me at the finish line makes this ride so moving and meaningful. If you can be there this Sunday, I'd love to see you. If you can't be there and you're able to support this event (even just a little amount from a lot of people adds up to so much!), I am so appreciative. Here is the link to my fundraising page:
https://www.classy.org/evanston/events/challenge-tour-illinois/e51548
Thank you so much for your support and love.
Writen by Penny Fisher

Penny Fisher has not only survived an unbelievable trauma, but also she has thrived. She is working on her memoir, and is available as a motivational speaker and mentor. To contact her, email: pennyfisher11@comcast.net.