Adaptive Adventures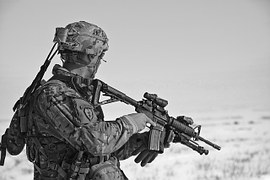 If you engage people, you can learn a lot about life experiences. It's like having a front row seat to the movie called life.
I am sitting next to Sergeant Bryan Sands on a flight to Steamboat Springs, Colorado. We are both on our way to a ski camp hosted by Adaptive Adventures, the charity that I am a recipient of and a volunteer for.   Bryan is a wounded warrior, he is 29 years old. He joined the army at 19. At 20, Bryan was deployed to Iraq. As a toddler he played with his GI Joes, and all he ever wanted was to be a soldier– so off he went.
Bryan came back from his second deployment somewhat whole, but not well. He was hit by a roadside bomb and suffered traumatic brain injury, tbi, back, spine, and leg damage and lost some of his soldier brothers in that ambush. My injuries are different than his, mine are external, Bryan's are mostly internal. Interestingly, although I am missing limbs, I look less injured than Bryan. In our several hours together spent flying and driving to our destination, I can sense the emotional damage that war has wrought on this young man.
Before boarding our flight, Bryan approached the gate limping on a cane. He spoke with slight difficulty. He suffers from 37% short term memory loss and 20% long term loss. Bryan is a dead ringer of Joaquin Pheonix; he is bright, witty, honest and deep. In this short time, we have bonded and shared our life histories.  I respect and admire this young soul and I'm glad that he has been rehabilitated through the efforts of Adaptive Adventures. It would be a tragedy to lose this man through his pain. Bryan has a 5 year old daughter that he lives for and cares for and she and his guide dog have saved him.
At 29, Bryan is on permanent retirement for disability. During his first 6 years home, he struggled with suicidal urges, his girlfriend left him and took their 4 month old child away. He missed his army buddies who had become a part of him. He also missed being THERE, in the war zone, where he felt like his true self, doing what he was good at, what he was born to do.  Bryan had become a great marksman. He could shoot a moving target with acuity. At 21 years of age, he proudly led his team into battles, protecting our country from terrorism and weapons of mass destruction. After being hit by a roadside bomb, he was airlifted back home to the safety of the VA hospital in Georgia.
The terrible truth is that once these soldiers are home from their detail, they are misplaced into civilian life. Bryan and our young soldiers are trained to lead, protect, and often are addicted to the action and the adrenaline rush of combat. Back at home, Bryan could only find work as an administration assistant at Sears Roebuck, filing papers. Bryan shared that he struggled with drug and alcohol addiction as well as anger management, all related to post traumatic stress disorder, or PTSD.
There are many thousands of people walking around with post-traumatic stress disorder. The sad news is that not only do these vets suffer, but PTSD affects their families and so it passes down in a way through the generations.
Fortunately, Bryan joined the Dragon Race Paddle Boat Team with Adaptive Adventures. He became involved and engaged through active sports.  Hearing this story first hand has affirmed my love of this organization that I proudly support.
What I have learned is that a great deal of our veterans have become accustomed to the thrill of the adrenaline rush of active combat. Through extreme sports they can feel that adrenaline rush in a healthy way, and also bond with people who have experienced similar experiences. Many of these men who  openly shared their lives with me were happy and engaged, some if not all of them, had been on the brink of quitting living before finding this new world of hope and togetherness.

Adaptive Adventures' mission is to provide progressive outdoor sports opportunities to improve the quality of life for children, adults and veterans with physical disabilities.
Adaptive Adventures is a nonprofit that was co- founded by Matt Feeney and Joel Berman in 1999. Both men suffer from disabilities, but they are more able bodied and athletic than anyone I know. Joel is an above knee amputee and Matt is partially paralyzed from a diving accident. Both men are amazing, and inspire me through their selfless work. Adaptive Adventures helps people with a wide range of disabilities.
The organization provides adaptive devices to help people rediscover a sense of physical independence and enjoyment, while also building a close knit community through fun and shared experiences.
To learn more about the organization and how you can get involved, visit their website at www.adaptiveadventures.org. Please look on the calendar for future activities to join or volunteer for. Any donation you can make would be appreciated.
Charity is fulfilling. By helping others, you can also help yourself, and learn more about life as a whole. Please consider donating to this worthy organization here. Every donation counts, and donations are tax deductible. The proceeds go towards adaptive devices that free the injured. These devices are quite expensive.
For more about Penny Fisher, please visit www.pennyfisher1.com
I can't wait to see you all again! Much love and appreciation,
Penny
Writen by Penny Fisher

Penny Fisher has not only survived an unbelievable trauma, but also she has thrived. She is working on her memoir, and is available as a motivational speaker and mentor. To contact her, email: [email protected].