Mom Stories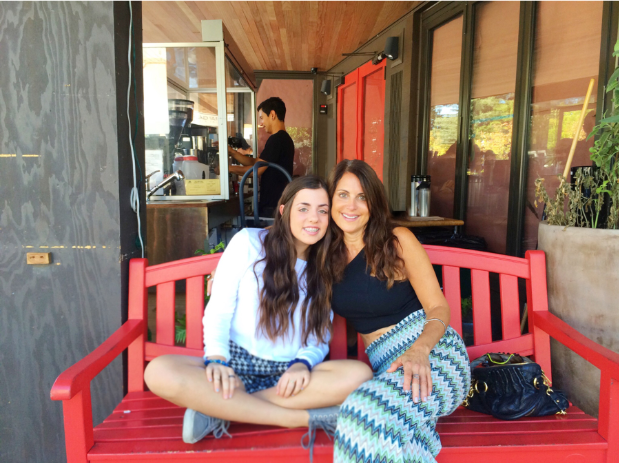 We love our kids. We want to see them happy and comfortable. Stay-at-home moms usually have the time and opportunity to bring a pair of dance shoes to school for their daughter who forgot them, right?  In most cases, the task would be no trouble for a mom to do. Most moms could jump in the car without the very real threat of contracting gangrene on the 10 minute ride to their children's middle school.
For me, this was not the case. There had been a three day arctic vortex freeze in my home town. I was lying on my bed, praying for relief from my pain because my severed limbs that suffered from a strange and inexplicable case of Necrotizing fasciitis 5 years back were compromised, and prone to frostbite in the worst way.
My beautiful daughter, Sloan, called from school and sweetly asked me to bring her dance shoes.  She could not cheer in the Pom squad that afternoon without them.
"Sure honey, I'll be right there, but next time please make it easier on mommy and don't forget," I pleaded.
"Ok mom," she said sincerely, "Sorry."
If she only knew…
The day was negative twenty degrees Fahrenheit, and with wind chill — god knows what. I dragged myself off the bed and threw on my torture chamber of a boot. I took the chair stairs down to the first floor. I hobbled through the house and out into the muddy, ice slicked garage to my car.
My hands instantly ignited in a firestorm of pain. It felt as if flames were attacking them as I drove on. I went a good ten minutes before the heat in my car finally kicked in. Until then, I feared serious damage to my hands and feet. It was a feeling I was sure that only someone with severe life threatening frostbite could feel. I pulled up at my daughter's school.
No parking!
I couldn't walk outside to give Sloan her shoes.  I called her, but she told me that she couldn't come out. Those were the school rules. I hailed down a friendly looking teacher whom I'd never met, and begged her to take the shoes in as she was passing my car. She agreed.
"Thank you," I said warmly to her. She couldn't possibly have imagined the extent of the good deed she was providing me.
I went home, with little time to relax as was almost time for my son Ross' school basketball game. In the middle of all this, my friend Stephanie showed up. She was a yoga instructor, and had arrived at my home to practice yoga with me.
I hired Stephanie to help me perform yoga the best I can with no fingers, left foot, or right metatarsal (which had just been surgically worked on for the fourth time).
Stephanie and I, through sheer determination, managed to pull off an advanced yoga session anyway.
Then it was time to go to Ross' basketball game, and sit serenely on the steel bleachers while making small talk with the other parents. A few moms were so lovely and complimented how nice I looked that evening. "Nice?"  I thought. If they only knew!
I was inwardly writhing in pain and discomfort underneath those beautiful clothes. And my body, which I kept slim and toned through healthy eating and consistent exercise, had been irreversibly altered from the neck down. There was not one area from my tracheal scar at my throat to my missing toes that had not been altered surgically by this heinous event called Toxic Shock Syndrome.
TSS was the catalyst for all the other problems that I currently and forever will suffer with. Toxic Shock was the umbrella under which all the other life threatening and damaging illnesses occurred. How does one get toxic shock? It is a condition which attacks your body, shutting down your organs and poisoning your blood stream. I somehow contracted a rare and lethal disease called Group Strep A , or Streptaccchous  A, which strikes infrequently, but is usually fatal.
On the outside I am a smiling, fit mommy. Underneath I am a new rendition of the tin man.
What to do to cope with it all? Plan a beautiful vacation to take me out of the extreme cold, of course. My industrious husband, Jeff, researched and found a getaway online for Cancun, Mexico. It was a place where the arctic chill would be replaced by warm tropical breezes, and the calls of "MOMMY!!!" would be replaced by the concierge asking, "How can I help you today?"
If only for a short few days, we would escape to paradise. Little did we know we would only be met by more folly.
After putting on both prosthetics at 5 am the next day, the five-day trip Jeff and I had been yearning for was within our reach. I packed my fingers, my orthopedic artillery and my sundresses, and Jeff and I headed to O'Hare airport. I wore my surgical boot on my post-operative foot, and couldn't wait to rest in the Mexican Rivera. We pulled up about 60 minutes before the flight, ordered a wheelchair and I went inside to wait.
Ten minutes later, Jeff walked over and signaled me to approach the check-in counter with him. As I approached, I heard Jeff ask incredulously, "Really, only by 3 minutes?"
"Yes sir, there are new rules with the airlines merging. There is nothing I can do," Replied the attendant.
I shakily explained our situation, how I could not walk to the gate and how we waited at curbside for 10 minutes, which affected our timing. There were still 55 minutes to go before takeoff.
"No, there is nothing I can do," she insisted. So we dismissed my wheelchair, and stood there trying to make new travel arrangements.
40 minutes later, the same supervisor approached us.
"Here, give me your luggage and go run to catch that flight. I'm letting you go," she said.
By this time, we only had 10 minutes to get on the flight, but we ran to that gate–me in my steel strap-on medical open toe boot, with no support. I didn't care about the biting pain; I just needed that vacation so badly.
We got to the absolute furthest gate huffing and puffing, but the doors were closed. The plane already left, and that supervisor never notified them that we were coming…
Writen by Penny Fisher

Penny Fisher has not only survived an unbelievable trauma, but also she has thrived. She is working on her memoir, and is available as a motivational speaker and mentor. To contact her, email: [email protected].